ABCMI Supplier Development Day
The Association of British Columbia Marine Industries will host a Supplier Development Day on Wednesday, November 29th in Vancouver.
This event will feature speakers from leading companies in the marine sector and government representatives. Come and learn about all the business opportunities available for companies in the shipbuilding industry.
SPEAKERS
The Honourable Bruce Ralston
Minister of Jobs, Trade and Technology
Mark Collins
President & CEO, BC Ferries and President, ABCMI
Ian Brennan
VP New Construction, Supply Chain and Contracts, Seaspan
Jamie Turcotte
Vice President, Services, Thales Canada
Derek Buxton
Project Manager, Polar Icebreaker Project, Canadian Coast Guard
AGENDA
8:00 - Registration
8:45 - Opening Remarks
9:00 - Keynote Address by Hon. Bruce Ralston
9:45 - Panel 1: National Shipbuilding Strategy (Seaspan)
10:30 - Health break and networking
11:00 - Panel 2: BC Ferries Strategic Plan (BC Ferries)
11:45 - Luncheon and Keynote presentation by Derek Buxton, Canadian Coast Guard
13:15 - Panel 3: Repair, Maintenance and Overhaul Opportunities (Thales)
14:00 - Closing remarks
This event is open to both members and non-members. We look forward to seeing you on November 29th!
When: Wednesday, November 29 | 8:00 am - 2:30 pm
Where: JW Marriott Parq Hotel | Kitsilano Room | 39 Smithe Street, Vancouver
Registration Deadline: Friday, November 24 at 5:00 pm.
Cancellation notice: Please provide a cancellation notice by 5:00 pm on the day of registration deadline.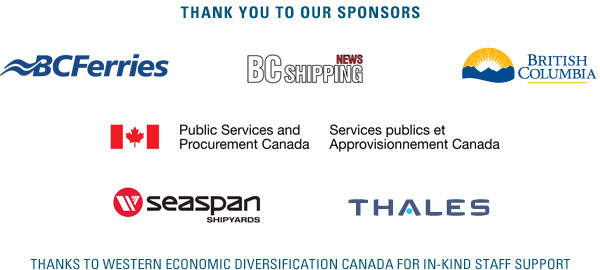 39 Smithe St, Vancouver, BC V6B 1C1, Canada